THE CRACKS FIRST revealed themselves in early October. The fiscal year had just started, and the departure of Regional Manager Michael Scott was becoming an issue for the Dunder Mifflin Scranton branch. He was more than just a manager. For his employees, Scott represented the lighter side of business — and how to enjoy life outside of Dunder Mifflin. Until this year, he seemed uninterested in ever leaving, content to be Scranton's Regional Manager, knowing he didn't need much else.
Holly Flax, of the Human Resources department was the one to draw Scott from his managerial position. The two had worked together for some time before Flax became friendly with Scott, who had previously been abnormally averse to HR personnel. The two became friends, and later lovers. It became clear that Scott and Flax had become physically attracted, as Flax divulged that Scott "got her… twice". To quote Scott, "Sex… [They] had sex… [He] had sex with Holly".
After the return of former HR representative Toby Flenderson, Flax was forced to relocate to Dunder Mifflin's Nashua branch. This, predictably, sent Scott into a downward emotional spiral. "Michael changed," says a friend of Scott's. Fast forward to now, and everything is different. Flax has since returned from Nashua, and Scott has fallen deeper in love with her than ever before. Scott's love reached its pinnacle, ultimately resulting in a proposal, which Flax accepted. The two plan to depart from Scranton and move to Colorado to be closer to Flax's family. With Scott's absence imminent, Dunder Mifflin Scranton is stuck with an internal predicament: who will take over the Regional Manager position and all its perks?
DUNDER MIFFLIN SCRANTON IS in uncharted territory. Michael Scott has been the manager for 9,986,000 minutes, or roughly 19 years. When he leaves, his office and the company P.T. Cruiser will be passed on to someone new for the first time in nearly two decades. Scott, ever the long term strategist, began scouting out his successor years ago. In a Survivor-like competition at Lake Scranton, Scott identified three candidates to replace him: Jim Halpert, Dwight Schrute, and Andy Bernard.
The three have worked very closely together, as they're all salesmen. They've collaborated on sales and worked in close quarters during their careers. But according to interviews with more than a dozen Dunder Mifflin sales people, accountants, receptionists and paper executives with knowledge of the company's inner workings, the three most successful sales people in the branch — Halpert, Schrute and Bernard — have had serious disagreements. They differ on Bernard's falsetto singing voice; over Halpert's light hearted approach; over Schrute's aggressive, hostile, and difficult personality; and most of all, over who will be the heir to the Regional Manager position. Those interviewed describe a palpable sense in the building that this might be the last year together for this group.
Halpert, Schrute, and Bernard have sold so much paper that virtually no other trio in the post-papyrus paper era could truly comprehend what it's like to be them. Dunder Mifflin Scranton was not only pushing the boundaries of what a small market paper company could accomplish. They also were keeping the entire company afloat. For years, the Scranton branch withstood everything the paper market could throw their way, knowing that if they were united, nobody could touch them. Now they're risking implosion in the only way possible: from within.
HALPERT HAS FAMOUSLY spent a disproportionate amount of time playing pranks on other employees, Schrute in particular. In his time as Schrute's colleague, Halpert has convinced Schrute that he's Asian, replaced Schrute's desk with wrapping paper, trained Schrute to extend his hand to Halpert at the sound of a computer turning on, and even forced Schrute to accidentally hit himself in the face with his own phone. The treatment of Schrute has not only caused a high level of tension between the two. It has driven Schrute insane with a desire to outperform Halpert in everything. With the Regional Manager spot up for grabs, the competitive nature of the two salesmen is at an all time high.
Whereas Schrute has been the victim of many tens of Halpert's pranks, Bernard is not to be messed with. In one of Halpert's classic pranks which involved putting Bernard's phone in the ceiling, Bernard showed his unwillingness to be the butt of Halpert's antics. He punched a hole in the drywall next to Michael Scott's office. "That was [Andy's] way of letting Jim know who's in charge," a Dunder Mifflin staffer says. "Since the incident, Jim has been walking on eggshells around Andy".
Several times over the course of the past few years, Schrute and Bernard met to discuss their colleague. At one point in time their relationship grew so strong that Bernard agreed to serve as Assistant (to the) Regional Manager when Schrute took over Scott's position. However, their partnership did not last long. Bernard's fiance, Angela Martin, had been having an affair with Schrute, and the news eventually surfaced. Neither suitor would relinquish Martin's love to the other, and the two dueled for her heart. Bernard won the duel, which culminated in Schrute being pushed into a bush on the hood of his opponent's Prius. "The Prius is silent if he keeps it under 5 mph," one Dunder Mifflin employee says. "He deserves the win". The duel did not settle the differences between Bernard and Schrute. It distanced the two even further.
NOBODY IS BUDGING now. Halpert, Schrute, and Bernard were supposed to meet in late in Q4 to clear the air, but that never happened. Those interviewed describe a lingering sadness around the office, as if the employees know the end might be near. The two salesmen who do not get the promotion will likely leave to work at big box stores; other employees might leave to join other companies, or even retire. The looming uncertainty has taken a toll on everyone, even as Scranton was the company's most profitable branch for the third year in a row. "Michael's done a phenomenal job of holding the building together," says Dunder Mifflin CFO David Wallace. When asked how he's managed to do such a remarkable job, Scott said "my philosophy is basically this, and this is something that I live by, and I always have, and I always will: Don't ever, for any reason, do anything, to anyone, for any reason, ever, no matter what, no matter where, or who, or who you are with, or where you are going, or where you've been, ever, for any reason whatsoever."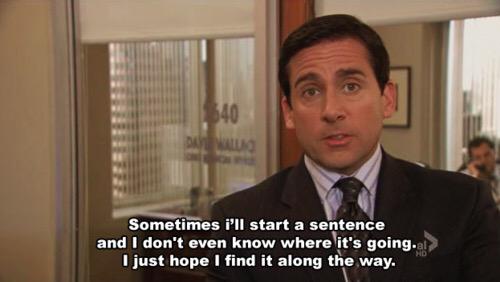 Scott always had a vision for how, after more than 18 years at Dunder Mifflin, he wanted to walk away, beyond setting up the branch at Regional Manager. He wanted his employees, all close friends, to be established in their professional careers. And he wanted the branch's success to continue without him, to have a legacy of always having the best interests of their clients in mind. Halpert, Schrute, and Bernard have redefined how much influence a trio of salesmen can have on an entire company. But this year has shown that the legacy of Scranton's greatest Regional Manager, like the market itself, is beyond his control.
The trio of Halpert, Schrute, and Bernard have found success in their time together in Scranton. People see this clearly from the outside, but they do not see what goes on behind the scenes. Internally, Dunder Mifflin has a storm brewing. Several staffers are nervous about the collapse of the Scranton branch. It's nearly impossible to attribute the Scranton branch's success to any one of the three salesmen. They all have sold thousands of reams of paper. But two of the three may have made their final sales call for Dunder Mifflin.
**This blog was inspired by Seth Wickerman's fan fiction article about the Patriots, published yesterday by ESPN. Well done Seth, you have quite the imagination.
However, I think your article would have worked better as a concept for an episode of Black Mirror as opposed to an article on a legitimate sports media outlet.
Categories: Uncategorized