Thank You, Thomas Edward Patrick Brady Jr
There are four dates in New England Patriots history that should never be forgotten in the Northeast part of this country.  The first is January 21st, 1994. The second is January 27th, 2000. The third is April 16th, 2000. The fourth and final date is September 23rd, 2001. The first three dates represent the days when Bob Kraft, Bill Belichick, and Tom Brady became apart of one of the most dominant sports franchises in the 21st century. Of course, as most seasoned Patriots fans remember, the team wasn't always this ridiculously good.  The fourth date, September 23rd, 2001, is arguably the most important date in franchise history.  On this date, veteran quarterback Drew Bledsoe was knocked out of a divisional game against the New York Jets and second-year quarterback Tom Brady was forced to come off the bench and into the game.  No one could tell that this young kid could become what he has today, but here we are 17+ years later watching a 40-year-old man try and make history by winning a record sixth Super Bowl.
Tom Brady's first season was a true Cinderella story with the Patriots winding up on the NFL mountaintop.  When we were first introduced to him, we saw a genuine, young man trying to help his team win games. He wasn't trying to be Brett Favre or John Elway or even Joe Montana, he was just trying to lead the team and stay humble about where he was in his career.  At every press conference and media outing, he always made sure to say the right thing: never taking credit for the team's success and never blaming others when the team faltered.  He took the team-first philosophy to heart and always made sure to stay even-keeled after both wins and losses.  He became your dad's favorite player because he represented everything that meant to be a class act and earn success by working hard.
Of course, we all know in New England that Brady is more than just a respectful, pretty boy.  Actually, he's not even a pretty boy: he's one of the fiercest competitors in all of professional sports.  He might be all class off the field, but on the field, he is the most possessed person in the stadium and is also quite the trash talker.  He's known for aggressively head-butting teammates, screaming to focus them and give them motivation, and also getting in the face of a defensive player to let them know he owns that ass. Being from California, Brady never gave us a sense that he was "California cool" and his time at Michigan prepared him for the harsh winter weather.  For us, he represents the ideal and stereotypical Bostonian: a tough, hard-working blue-collar citizen who grinds day-in and day-out and also doesn't mind a little cold weather.  The only thing missing is the Boston accent.
By the time you blinked, Brady and the Patriots were back-to-back Super Bowl champions and had earned three rings in four years.  He had a flawless 9-0 record in the playoffs and it felt as if he would never lose on the big stage. Eventually, he did lose, but he had established himself as one of the best quarterbacks ever. He added two more rings for good measure by winning Super Bowl XLIX and LI to pass Terry Bradshaw and Joe Montana for most Super Bowl wins by a starting quarterback (five).
His biggest losses came off the field, however.  Aside from all the winning, Spygate and Deflategate both negatively impacted the public's perception of this once-in-a-generation player.  Spygate had nothing to do with Brady, but the scrutiny the team received affected everyone, including number twelve.  Although no definitive conclusion came from the Deflategate "scandal", Brady and the Patriots were once again scrutinized, although this had more of an effect on Brady than anyone else.  These two incidents have not hindered our love and passion for this man because we know that Spygate had nothing to do with him and Deflategate was an unjust attack from the NFL's league office.  These are nothing more than blips on the radar of an almost unblemished career.
Think about it: of all the detriment and negative publicity that the NFL has endured the last few seasons, what has been the most alarming and note-worthy? Domestic abuse? PEDs? Deflated footballs? One of those is not like the others and was overblown over the past few years.  Something that should have been a slap on the wrist turned into the same punishment as a domestic abuse case (4 games).
Some may never believe the Patriots play fairly. Some may never give them or the quarterback the credit he deserves.
(Source: Sports Illustrated)
But that's neither here nor there because the New England Patriots are about to take on the high-flying Eagles in Super Bowl LII.  Brady's past, Deflategate, his hand, Alex Guerrero, and this season will surely be of discussion amongst Al Michaels and Cris Collinsworth during their TV broadcast.  Leading up to the Super Bowl last season, Brady opened up emotionally about his family and how his hero is his father. He was choked up when he answered the question as a family matter had been affecting him and his family for almost two years.  This goes back to everything that this man has ever stood for: family. He loves his own family and also loves his football family and does everything he can to deflect praise and admiration that he receives to his teammates and coaches to show them, love.
Brady has said he will retire when he sucks. Sports analysts have said he's got about 2-3 years left in the tank.  No matter how much longer he plays for, his legacy has already been cemented next to other Boston sports greats such as Bill Russell, Ted Williams, and Bobby Orr.  At 6:30pm EST on Sunday, February 4th, the Patriots and Eagles will play for the Lombardi trophy.  The result of this game will obviously still have significant implications on perceptions, legacies, you name it.  Win or lose, New England Patriots fans should thank Tom Brady for giving them happiness and joy that might not ever be experienced again in this region.  This Patriots fan who snuck into media day to thank Tom Brady (via Off the Monster Sports) last season is exactly how most of us have felt these past 17+ years.
After Super Bowl LII, the Patriots or Eagles will be Super Bowl Champions.  We here in New England are pulling for Belichick and Brady's sixth ring, while Nick Foles and the Eagles are hoping for their first.  This should be a close and entertaining game for all fans.
It will be tough, however, to live up to the epic comeback and craziness that took place during last year's Super Bowl.
Whether the end for Tom Brady is next year or three years down the road, Patriot nation would like to thank you for these past 17+ years.  You've given us so much joy and have exemplified what it means to be a model citizen.  You might have gotten older and you're fashion choices a bit bolder, but you're still the same Tommy that came into the league in 2000.  So go out onto the U.S. Bank Stadium field and get that sixth ring.  We'll be cheering for you from the stands and TVs across America and the world.  Let's go!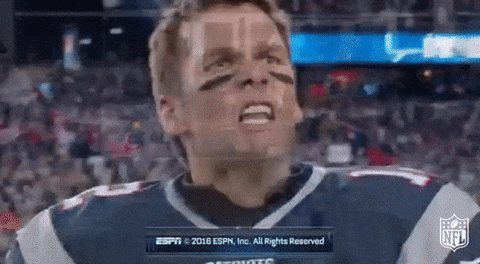 Categories: NFL